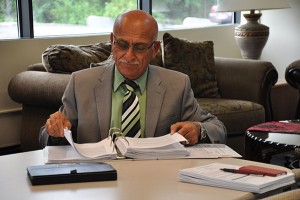 The staff of Clinical Research Trials LLC has decades of combined experience in the clinical trial process.  Nashat Y. Gabrail, M.D. has led the fight to find a cure for cancer and is well on his way to making CRT a leader in other areas of medical research.  Through its initial work with Gabrail Cancer Center Research, the staff of CRT has learned first-hand how to ensure the progress of modern medicine while at the same time adhering to ethical obligations and the desires of volunteers.
To learn more about Dr. Gabrail and the staff at CRT, read the CRT blog.
Clinical Research Trials LLC is a veteran in the clinical trial world.  CRT focuses on Phases I-III pharmaceutical trials to bring about the creation of potential new treatments and cures for some of the world's deadliest diseases.
CRT is an affiliate of Gabrail Cancer Center Research, LLC, and has helped lead the world in the development of new cancer-fighting drugs.  In recognition of the fact that there are many other fronts in the world of medicine, CRT was formed to help develop potential new treatments to help advance medicine and improve lives through new research.
Today, CRT focuses on a wide range of clinical research trials while maintaining its initial roots in leading the fight against cancer.  CRT offers on average 30-60 different cancer related, currently enrolling studies at any given time, while offering various other clinical trials as well.
Thanks to the network through which CRT got started it even has the capability to execute various types of Phase 1 clinical trials such as:
First-in-Human
Single Ascending Dose
Multiple Ascending Dose
Adaptive/Accelerated Protocols
Food Effect
Drug/Drug Interaction
Age & Gender
Patient Specific Populations
Bioavailability/Bioequivalence
All studies conducted by CRT come at no expense to participating volunteers.  Often times, if a volunteer is participating in a study, that patient will receive compensation for his or her participation.  Although all participating volunteers must sign an informed consent form, they are free to exit participation in a clinical trial at any time.
Through its clinical research effort, CRT hopes to pave the way for not only curing some of the world's deadliest diseases, but also ensuring participant comfort during the course of that quest. Call or email CRT today to find out if you qualify for a currently enrolling study.